Kenya welcomes return of Chinese tour groups
By ZHANG CHI in Nairobi, Kenya | China Daily | Updated: 2023-02-13 10:22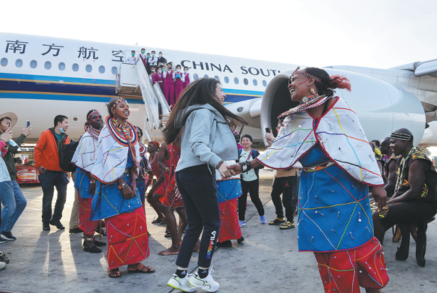 The first tour group from China in three years arrived in the Kenyan capital Nairobi over the weekend, and it received a warm welcome from Kenya's tourism authority.
"We are delighted by this return (of Chinese tourists). It is indeed an exciting moment for us because it means that we have resumed connectivity with one of the world's key growing source markets for international tourist arrivals," said John Ololtuaa, principal secretary of Kenya's State Department of Tourism, at a ceremony welcoming the tourists at Jomo Kenyatta International Airport on Saturday.
The 40 Chinese tourists will visit attractions such as Masai Mara National Reserve, Amboseli National Park, and attractions around Naivasha and Nakuru in the following days, he said. They are the first group of Chinese tourists since China announced the resumption of outbound group tour services, which were suspended when COVID-19 broke out in 2020.
"The Chinese market presents a huge opportunity for Kenya's tourism industry. The governments of Kenya and China have over the years had strong bilateral relationships bound by the people of the two nations," Ololtuaa said. "China's relationship with Kenya extends to security, infrastructure, development and trade. We want to extend tourism to this to ensure that our economy reaps full benefits."
Tourism is one of Kenya's pillar industries. According to the Kenyan government, China is Kenya's sixth biggest tourism source market. It accounted for 5.5 percent of international tourist arrivals to Kenya before the pandemic. In 2018, at least 230,500 Chinese tourists visited Kenya.
Sherry Xie, managing director of Long Ren Tours and Travel in Nairobi, said she has received many inquiries about tours in Kenya from China.
Wang Hao, 52, a businessman from Beijing, was one of the tourists who arrived in Kenya on Saturday. He said he has huge expectations for the trip.
"This is the first time I am visiting Africa, and I have watched and read lots of documentaries and books about Africa before coming. I'm very interested in the natural environment and wildlife, especially outside the rainy season," said Wang.
Since Feb 6, China's Ministry of Culture and Tourism has resumed outbound group tour services, including for Thailand, Indonesia, New Zealand and Argentina.
zhangchi@chinadaily.com.cn